Learn from Home Offer TAKE THIS BUNDLE
Nuke Training (2 Courses)
This Nuke Course Online is a comprehensive bundle which includes 2 courses with 9+ hours of video tutorials and Lifetime access.

You will also get verifiable certificates (unique certification number and your unique URL) when you complete each of them. This Training focuses on the Basics and fundamentals of compositing using Nuke Software.
Nuke - Beginners to Beyond
VFX Digital Compositing with Nuke
Offer ends in:
TAKE THIS BUNDLE
* One Time Payment & Get Lifetime Access
What you get in this Nuke Training?
Online Classes
Technical Support
Mobile App Access
Case Studies
About Nuke Course
| Course | | No. of Hours |
| --- | --- | --- |
| Nuke - Beginners to Beyond | | 3h 3m |
| Nuke Practical - VFX Digital Compositing | | 6h 25m |
---
| | |
| --- | --- |
| Course Name | Nuke Course Online |
| Deal | You get access to all 2 courses bundle. You do not need to purchase each course separately. |
| Hours | 9+ Video Hours |
| Core Coverage | Compositing using Nuke |
| Course Validity | Lifetime Access |
| Eligibility | Anyone serious about learning Nuke and wants to make a career in this Field |
| Pre-Requisites | Basic knowledge about Management would be preferable |
| What do you get? | Certificate of Completion for each of the 2 courses |
| Certification Type | Course Completion Certificates |
| Verifiable Certificates? | Yes, you get verifiable certificates for each course with a unique link. These link can be included in your resume/Linkedin profile to showcase your enhanced compositing skills |
| Type of Training | Video Course – Self Paced Learning |
| Software Required | None |
| System Requirement | 1 GB RAM or higher |
| Other Requirement | Speaker / Headphone |
Nuke Course Curriculum
---
In this section, each module of the Nuke Certification Course is explained.

Nuke - Beginners to Beyond
The course starts from the Beginners module. In this course the learners study about the introduction to the Nuke software. They get a brief about the User Interface and the basics of the software. They learn the primary steps in using Nuke Interface. Moving ahead, the users study about how to work with channels. Nuke is a complex program and the user further learns image merging, Color Corrections, Transforming Images and finally formatting and modifying Channels.
Nuke Practical - VFX Digital Compositing
In this Nuke Training, there are only two main modules. This is more of an advanced module. It teaches about the VFX compositing Digitally. The module starts with the Introduction and Workspace and its Preferences. Further, the students taking up this course will get a brief about Nuke Tools and Toolbar. Using Nodes and learning about Layers and Channels is also covered in the Course. Further, this module teaches the Basics of Compositing. Tracking and Stabilization, Keying and 3D Integration are some of the features taught in the course.
---
Certificate of Completion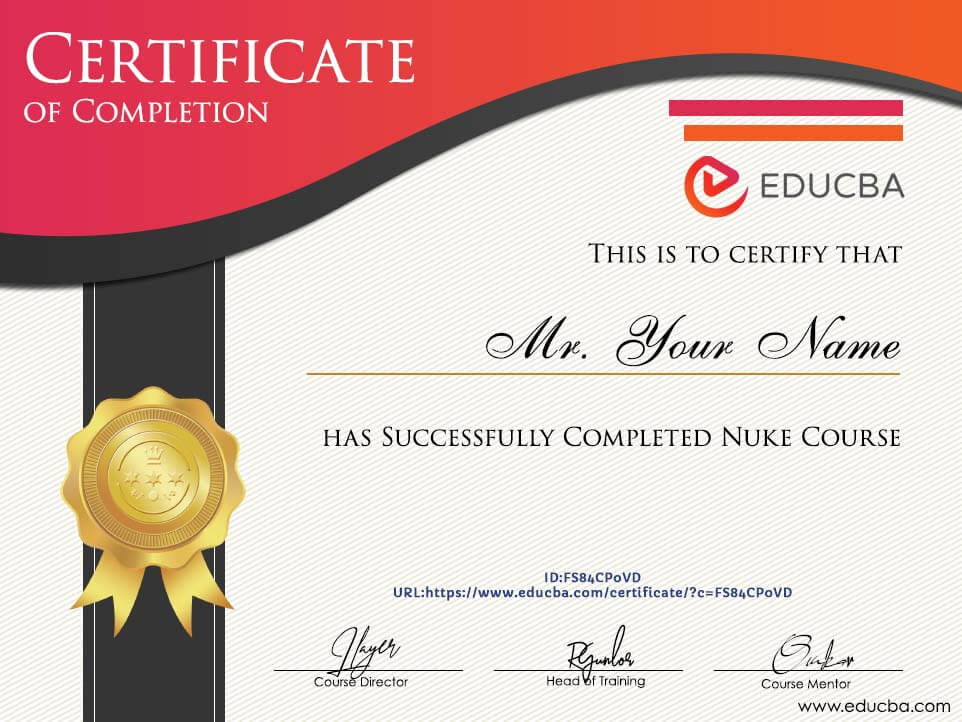 ---
 What is Nuke?
A famous and commonly used television and film post-production application is Nuke. It is a node-based digital compositing application. Developed and created by Digital Domain, Nuke is compatible with Microsoft Windows, OS X, and Linux. Mainly written in C++ and Python programming language, Nuke is complex and powerful software.
Nuke is a complex program but it is not complicated and easier to learn application in comparison to other 3d compositing software. Presently, Nuke is used for VFX Editing and composting and is attracted by not only compositors but 3D artists also.
Nuke is a node-based application and works on node graph layout. This behavior of Nuke makes working with Nuke transparent and non-destructive. Being a non-destructive application the user can change and modify things multiple times and at any point in time as per their need. Users even can create their nodes that are custom and changeable at any time. Rotoscoping is also easy and simple with Nuke as it has the Roto Node.
Nuke software can be customized per the requirement of the user. The user can modify the workspace and the interface and customize it accordingly. The users get to manage the scripts and codes with the help of sticky notes and custom colored backdrops.
Nuke works amazingly and blends effortlessly with other software such as Maya, Mari, and Houdini. The users save a lot of time working with Nuke as it saves the tedious tasks of converting files before importing them to the program. Nuke reads file formats such as JPEG, Tiff, and more.
Nuke is integrated with Python scripting language. Python is an easy language and goes well with beginners as well as professionals. Python helps the user to create widgets and commands with little knowledge of it. Nuke consists of a built-in camera tracker which is used to examine 2D images and automatically convert them to the 3D camera with approximate dimensions.
Nuke is mostly preferred application over other 3D animation programs. This is because Nuke consists of 32-bit point linear color channels. Nuke is mostly used for the unique features that make it a different software among the others. Relighting is another great option in Nuke.
Furthermore, users can animate with Nuke in various ways, they can use manual keyframes or combine tracking information for more positive outputs.

Industry Growth Trend
The global computational creativity market size to grow from USD 204 million in 2018 to USD 685 million by 2023, at a Compound Annual Growth Rate (CAGR) of 27.4% during 2018–2023.
[Source - MarketsandMarkets]
Average Salary
Average Salary
$17 per hour
The average salary for a Video Editor is $16.63 per hour in the United States.
[Source - Indeed]
Which tangible skills you will learn in this course?
Nuke Course teaches complex editing using various tricks and commands.  This course offers the learner to study the techniques and animations easily and practically. By learning these compositing techniques, the learner can improve their skills at a high level. This Nuke Course Online program would boost the understanding of the users on fundamental topics of compositing, editorial, and multitasking.
This training targeted towards beginners and will help solve many basic problems at ground level. The course starts with a beginner module and has an advanced module on VFX compositing. It easily teaches the learners difficult commands and helps them to easily learn Nuke.
Nuke works on the Python programming language. A beginner can easily learn this language without any confusion using this Nuke Course. Lessons on tracking and stabilization, keying and color corrections are well explained and well described with great practical examples to practice.
Some of the skills that the learner masters are merging images, visual effects, copy node, color correction, image transformation, merge node, key mix node, trimming, masked blending & Multi-cam Editing.
Pre-requisites
Basic knowledge about computers is a must.
A passion for learning animation and digital compositing with creative ideas and patience is a much-needed pre-requisite before starting this Nuke Course Online. The user should be hardworking and creative. He must possess interactive thoughts for positive outcomes.
To gain great results, the learners should have strong determination and enthusiasm to study the software with the help of this course.
Prior knowledge of visual software is also needed to create stunning animations. The Nuke Course is based on practical learning of the software and basic knowledge about animation is also required before starting this course.
Target Audience
Nuke Course Online is all about Digital Compositing and Animations. It targets participants from every field of post-production sections and 3D artists and animators.
This training is specially designed for learners who want quick and easy methods to learn the software and master it without wasting much time.
This Nuke Course also aims to teach beginners and first-time programmers and help them to get familiar with the program.
Students & Professionals who wish to become Editors & Visualizers can take this Nuke Course.
This training is aimed at visual and graphics experts, animators and production experts.
Nuke Course -FAQs
---
Do I need to learn scripting to study this program?
No, Not at all. This Nuke Course does not only focus on the scripting part but also teaches a lot of animation techniques to the students. Scripting is a part of Nuke workings but the programming is very simple and easier to get.
How will this training help me in the future prospectus?
This Nuke Course Online is designed for students and learners who want to make careers in the field of Digital Compositing and Animations. If you choose to learn Nuke using this course, you will not only benefit your skills but also obtain command over the various methods and process of Digital compositing, which in turn will automatically open many career opportunities
Career Benefits
Nuke Course Online is a career-oriented training that primarily focuses on amplifying the skills and providing the user to master numerous procedures of learning Digital compositing through this Nuke course. This Nuke training seeks to give the learners a solid awareness of many of the features and commands in Nuke and to start designing their advance and professional animation projects.
In this Nuke Course Online, the students will learn the art that will not only help to boost their careers but also will help them to design their future. Despite, the fact that learning Digital Compositing and VFX using Nuke is a testing program to learn, this training provides practical examples and technique that describes everything with great ease and simplicity.
The training proves to be a huge benefit to both beginners and experienced professionals. This Nuke Course Online is a career based training and using this the students learn methods and techniques of Nuke software that will help them to grow their skills and capabilities. Learners have huge choices to make from different career options. They can either become a Data Analyst or a 3D Artist. Roto Artist, FCP Editor, Lightworks Video Editor, VFX Artist are some of the career options to choose if take up this course.
Reviews/Testimonials
---
Nuke Certification Course
The course was well explained and taught compositing in detail. This was a great opportunity for me to learn something I am so passionate about and wish to make a career in. Thanks.
Joseph
My course experience
It was very good for learning. I got to learn new techniques that I wasn't aware of earlier. These courses available online gives us a lot of opportunities to explore things without any hassle of going somewhere. This was a good quality teaching.
Aarushi Thakkar